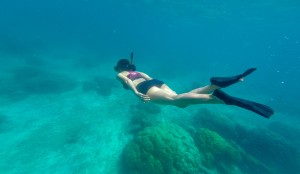 The world's coral triangle region only covers Central and Eastern Indonesia. For those of us who live in Western Indonesia such as Jakarta, a trip to Wakatobi, Raja Ampat, Komodo, or Bali, certainly takes a lot of time and money. Unfortunately, we are only free on weekends or the savings is not enough for Live on Board on Wakatobi. But, our desire to get wet and get close to the beautiful underwater creature is unstoppable.
If you really want to snorkeling in beautiful water but can't go too far from Jakarta, try coming to Peucang Island. Although it is not located inside the coral triangle region, this very remote and beautiful island offers a healthy and protected underwater beauty. Here are other reasons why you need to consider Peucang Island as the best snorkeling destination to spend your short weekend getaway:
From Jakarta, it only takes 4 hours drive by car and 2.5 hours across the ocean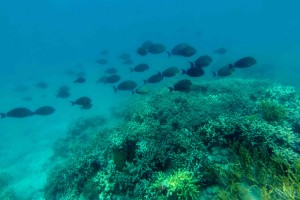 Peucang Island is located in the Ujung Kulon National Park conservation area. To reach Peucang Island from Jakarta we don't need to take any flight. Just drive to the Sumur Subdistrict, Pandeglang Regency. The road to the Sumur Subdistrict was renovated at the end of 2019. When the road was still damaged, the travel time from Jakarta to the Sumur District could reach 8 hours. Now the fastest travel time from Jakarta to the Sumur District in our experience is 4 hours. From Sumur District we need to take a boat to reach Peucang Island. Only wooden ships are available and will take you to Peucang Island in about 2.5 hours. If you have plans to visit Peucang Island on Wednesday or Saturday, NIKKI Peucang offers land and sea transportation services from Jakarta to Peucang Island. Check the rates here >>
Healthy marine life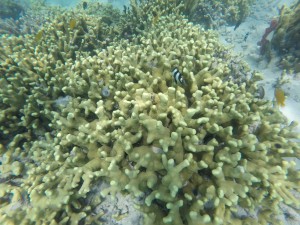 The sea around Peucang Island is still very healthy and maintained because Ujung Kulon National Park officers guard it from over-exploitation of resources. There are 4 locations around Peucang Island which have beautiful and healthy coral gardens. First is the beach in front of Batik Villa, the second location is named Ciapus, the third is Citerjun, and the fourth is Sumino. The types of biota and coral are not much different at each snorkeling spot. Most consist of hard corals such as Acropora branching, Acropora Tabular and Stylophora sp. Soft corals such as sea anemones grow in a small area. Grouper fish, surgeonfish, lobster, cuttlefish, blue spotted stingray, lionfish, clown fish, and puffer fish are often spotted.
Enter the water from the shore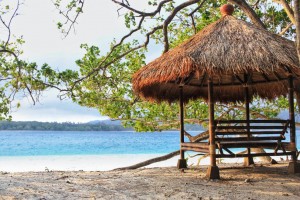 The snorkeling spot in front of Batik Villa is a special spot for us. Starting from the beach in front of Batik Villa number 6 and continuing to the southwest, a stretch of coral is spread along the clear calm water. At this location, you can enter the water from the shore and easily get up close with lots of fish. Turtles and dugongs have been seen at this location but are very rare and no one has been able to capture them. If you like to try snorkeling on Ciapus, Citerjun, and Sumino, we will transfer you by boat in just 10-20 minutes from Nikki Peucang Resort.
NIKKI Peucang gives you the best experience of staying in a remote area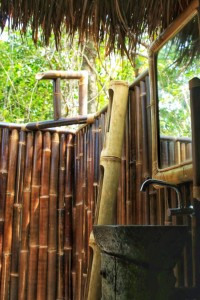 All lodging at NIKKI Peucang Resort is located on the beach. After snorkeling, you can immediately clean yourself in your Batik Villa private outdoor bathroom. This bathroom without a roof! It gives you the sensation of bathing in the middle of the jungle. All ornaments in the bathroom are also made of natural materials. We strive to make you comfortable in a remote location and keep the natural feel of the surroundings. Book a trip to Peucang Island by staying at NIKKI Peucang Resort via CS +61 811 6112 772 or email [email protected].