Anak Krakatau – A Travel Guide
Anak Krakatau presents a beautiful and odd view. A volcano in the middle of the sea with smoke rising from its caldera. Surrounding it are small islands with fresh air. The oceans around are healthy, full of colorful coral and fish. Visiting Anak Krakatau is a good opening destination before continuing the trip to Ujung Kulon National Park.
NIKKI Peucang has facilitated many guests who want to visit Mount Anak Krakatau. If you are also interested in the tour, here is the guide.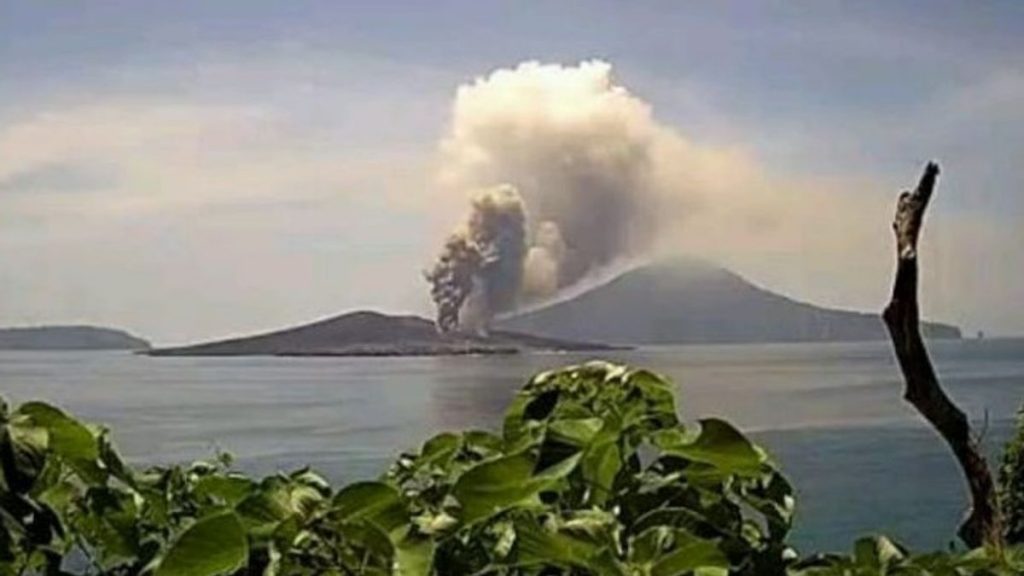 Meeting Point: Anyer Port
Anak Krakatau is 73 km north of NIKKI Peucang Resort and 158 km west of Jakarta. Administratively, this volcanic island is part of the South Lampung Regency. But the fastest distance to Anak Krakatau is through Anyer Port in Serang Regency, Banten. If you move from Jakarta, Anyer Harbor is about 3 hours away by private vehicle.
To visit Anak Krakatau, then continue to Ujung Kulon National Park, the only available transportation is by sea using a speedboat. We need to get up early to go through this series of trips. The sea travel time is quite long, and it is not recommended to start at noon to avoid us still at sea in the evening. We should depart at 6 am from Jakarta and arrive at Anyer Harbor at a maximum of 9 am.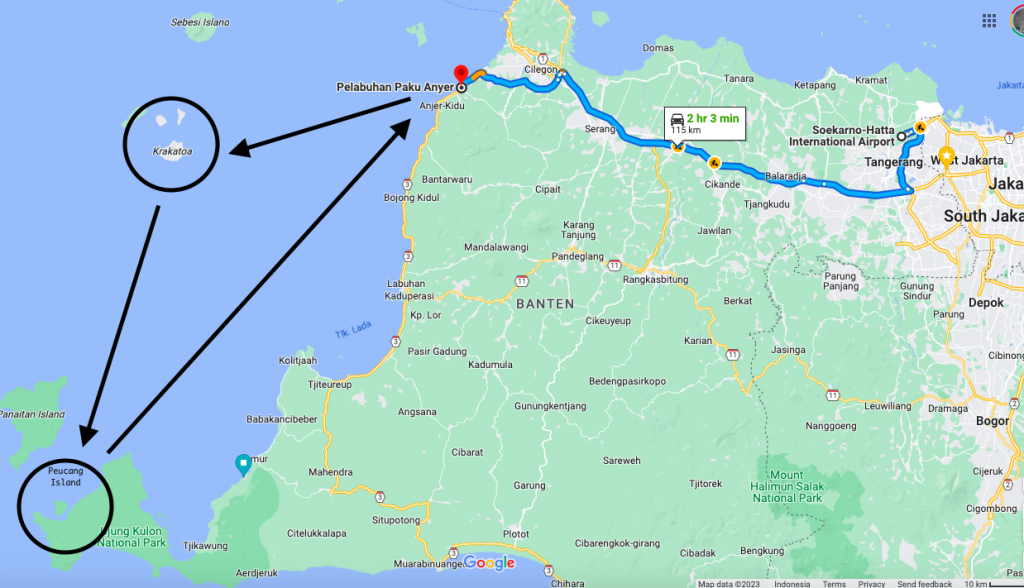 The recommended length of day to visit is 4D3N. On the first day, we departed from Jakarta to the meeting point at Anyer Port. From the port, a speedboat will take you to Anak Krakatau. After completing activities on Anak Krakatau, the boat will continue its sail to Peucang Island. On the second and third days, you can relax on Peucang Island and explore Ujung Kulon National Park. Then on the fourth day, you will be escorted back to Anyer Port.
Anyer Port is about 3 hours from Jakarta. You can park your car at this port. Starting from this port, you are accompanied by a guide. If you need a car rental, we can provide it. A car with a driver will pick you up at your hotel or home in Jakarta or the surrounding cities.
See the Magnificent Anak Krakatau
From Anyer Port, the journey will continue by speedboat with 2-hour sea travel to Anak Krakatau. Anak Krakatau grows in the remnants of the eruption of Mount Krakatau, which collapsed when it erupted in 1883. Its cone first appeared above the water in 1927 and continues to increase in height by an average of seven meters per year. The eruptions of Anak Krakatau made this mountain bigger and higher. The flowing lava that reached the sea expanded its land area.
Seeing and hearing the eruption of Anak Krakatoa is a truly amazing experience. The sound of the eruption was heard from a distance and felt thrilling. Throwing volcanic material as high as hundreds to thousands of meters is a rare and spectacular sight. After the big eruption in 2018, the intensity of Anak Krakatau's eruptions was indeed not as high as in previous years. However, based on Data from the Center for Volcanology and Geological Hazard Mitigation published through the Magma Indonesia website, in 2022, the number of eruptions of Mount Anak Krakatau will be the highest compared to other active volcanoes in Indonesia. Indonesia has 127 volcanoes. The number of recorded eruptions from all of these active volcanoes is 254 in 2022. Mount Anak Krakatau itself erupted 88 times in 2022 or 34.78% of the total active volcanic eruptions throughout Indonesia. From the beginning of 2023 to 16 February 2023, the number of eruptions of Mount Anak Krakatau still ranks at the top with 31 eruptions.
Scott, a tourist from America, beautifully shared his experience of witnessing the eruption of Mount Anak Krakatau when the intensity was still high in 2010;
"Wow! How can I possibly describe what we saw and experienced? This place was the single most spectacular natural scene that I have ever experienced…. We thought the day eruptions of Anak Krakatau were spectacular, but then night came. It was incredible and lava bombs would explode and make it all the way to the ocean without hitting the ground! Using the known height of the volcano, I estimated that the big eruptions were shooting glowing lava 1000-1300 feet into the air (~300-400m) above the top of the volcano, setting the entire volcano aglow with red hot lava. It was an incredible scene and very noisy. I've never seen such a spectacular natural scene and we all agreed on this. No man-made fireworks show could possibly compete with this!"
We will climb Anak Krakatau if possible. If it's not possible, we will take you around Anak Krakatau by speedboat, observing its grandeur and beauty from afar while enjoying a lunch box. After that, the boat will take you to Peucang Island to stay at NIKKI Peucang resort and explore Ujung Kulon National Park.
Adventure in Ujung Kulon National Park
We can do many activities in Ujung Kulon National Park, from trekking, snorkeling, wildlife seeing, and fishing. On the second day, we suggest you explore the trekking route on the Ujung Kulon Peninsula, which leads to Tanjung Layar. Along the tracks is surrounded by dense tropical forests. There are several historical buildings in this area. If lucky, we will find rhino tracks on this trekking route. Trekking to Tj Layar should start in the morning. This activity takes about 3 hours. After lunch, you can relax on Peucang beach. You can read more detailed information about trekking activities to Tanjung Layar by click this following link >> 
On the third day, you can spend the day enjoying the beauty and calm of Peucang Island or doing light activities. The activity we recommend is visiting the Kiara Tree in the Peucang forest. The tree has lived for hundreds of years. It is not far from the resort. Walk about 20 minutes from the beach, and you will arrive at the Kiara Tree. You can read more detailed information about visiting the Kiara Tree by click this following link >> 
In the afternoon, you can visit Cidaon Grazing Ground which is situated opposite Peucang Island. In this field, you can see a herd of bulls grazing. Peacocks and wild boars are also often seen. The distance is very close to Peucang Island. We only need to cross by boat to Cidaon pier for about 10 minutes and continue walking for about 15 minutes. You can read more detailed information about visiting the Cidaon Grazing Ground by click this following link:
Tour Prices and Bookings
The price of the tour package to Anak Krakatau and Ujung Kulon National Park depends on your needs. Contact us and consult your tour needs. We will advise on the best tour packages and prices for you.